Support, consulting, and training on Additive Manufacturing
Additive manufacturing: a new frontier for global industry
Additive manufacturing can undoubtedly be defined as a new, profound revolution in industrial production technologies. Its impact on the production of mechanical components in every industrial sector, in fact, is still to be fully developed, but even today we can see great growth prospects.
Typically, additive manufacturing has been used to carry out rapid prototyping activities for mechanical components which, for example, were subsequently mass-produced with other technologies, drastically reducing product engineering costs.
In reality, the high-level manufacturing technologies proposed by Prima Additive go far beyond simple rapid prototyping and allow you to create 3D mechanical components starting from a metal powder that is melted by a laser source.
We offer two different technology solutions, Powder Bed Fusion (PBF) and Direct Energy Deposition (DED), to precisely meet the needs of all types of customers, in different industrial sectors. With both solutions, you will be able to create highly customized 3D parts according to the needs of each application, with even very complex geometries and excellent mechanical properties, using a manufacturing technology that is much more environmentally sustainable than traditional methods.
Prima Additive has developed good expertise operating in various production sectors: aerospace, automotive, jewelry, mechanics, electronics, energy, oil and gas, heat exchangers, dental prostheses and many others. Our work philosophy is based on constantly listening to customers and their specific needs in order to be able to give the best possible advice, guiding them in the eventual adoption of a production process which, in many cases, is almost unknown to the technical and production staff of the company.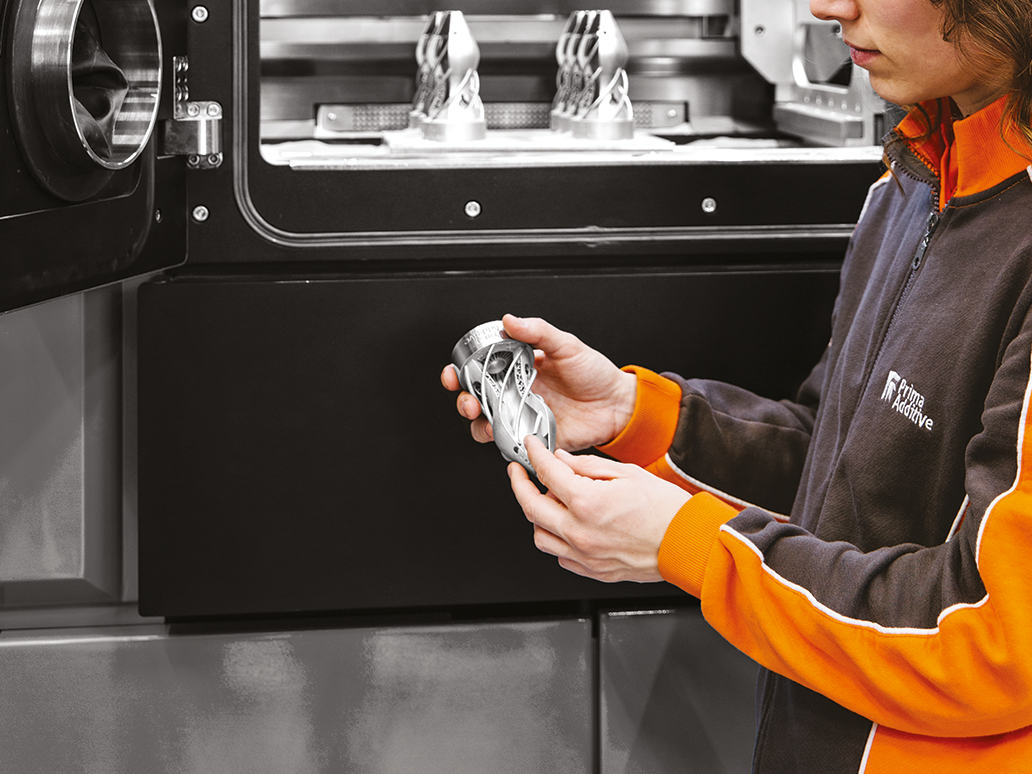 Changing the way of thinking processes with Additive Manufacturing
There is no doubt that Additive Manufacturing is a technology that allows many companies, which operate in industries that are also very different from each other, to obtain significant competitive advantages. As we mentioned above, thanks to Additive Manufacturing it is possible to produce components with a complex geometric shape, with specific variations upon customer request, even in small batches and with an extremely limited waste of raw material.
However, adopting Additive Manufacturing means, for many companies, significantly changing the way they design, deal with customers and suppliers and, of course, the way they produce.
To start designing, it is necessary to consider that making a mechanical component with production technologies such as PBF or DED allows designers to obtain geometric shapes that would have been uneconomical or impossible if made with chip removal production technologies. This certainly means that it is possible to think of new solutions for the company's products, but also having to take into account all the details to fully exploit this kind of production technology.
For example, the choice of metal powders, which constitute the raw material for the production of components with additive manufacturing, is crucial for the final quality of the finished piece. We at Prima Additive believe in an open approach to the choice of materials: we leave our customers free to choose materials, but we support them in identifying those that best suit their needs, helping them identify the most suitable suppliers and elaborate process parameters, if necessary.
Finally, we must not forget that additive technologies are placed alongside traditional technologies: one does not necessarily replace the other, but they often find themselves working hand in hand in a synergistic collaboration functional to the creation of impeccable pieces.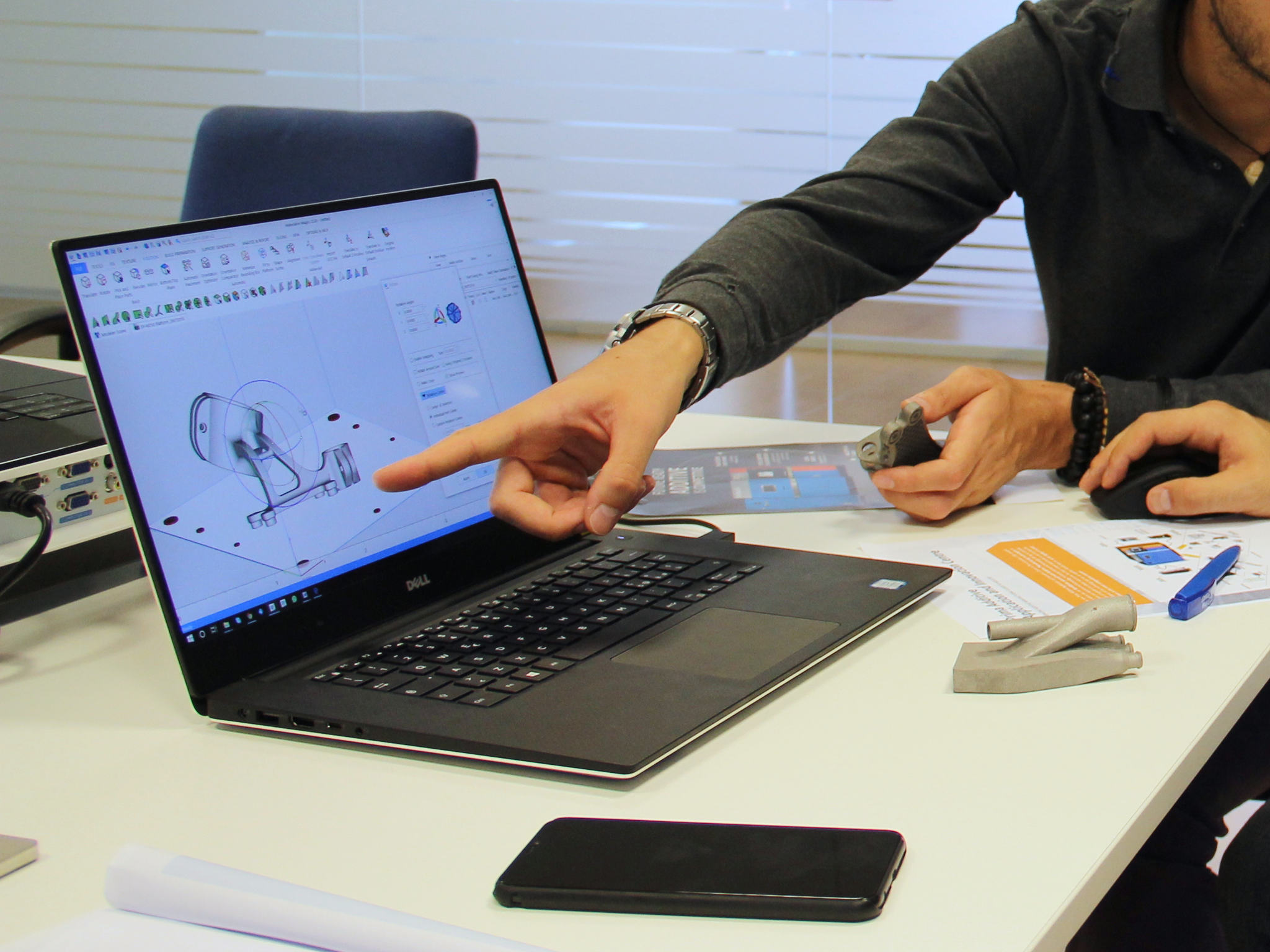 Leading companies towards Additive Manufacturing
Prima Additive provides a complete training and consulting plan for companies that are considering purchasing one of our Additive Manufacturing machines. The first step for those who want to approach this technology is the evaluation of the business case: we start from the production needs and understand how these are combined with the additive manufacturing technology. Subsequently, it is evaluated with the customer whether it is possible to optimize the design of the components with more functional shapes or with the consolidation of several parts into a single component.
Currently, Additive Manufacturing is not a suitable technology for 100 percent of business cases, and our first task, from a professional point of view, is to advise management on its adoption and, if the analysis of the customer's business case has given a positive result, at that point try to identify which technology may be most suitable for him, which machine platform he requires and which laser configuration may be more profitable. Once the ideal solution has been identified, the first prototypes are printed, the application is qualified, and only at that point can one really start speaking about the purchase of a machine. We strongly believe in our ability to offer solutions tailored to the customer's needs, where it is the customization and quality of the process that makes the difference, not the machine itself.
Leading companies in adopting Additive Manufacturing, providing them with constant support and training their technicians to make the best use of our machines is, from a certain standpoint, the true beating heart of our work.
In fact, Prima Additive does not only want to stand out as an avant-garde brand in a complex and intriguing technology, but also as a solid and reliable partner for all companies that want to innovate their production process and thus obtain the significant competitive advantages offered from Additive Manufacturing.
If the prospect of working with an innovative production technology appeals to you or if you simply wish to learn more about the potential of Additive Manufacturing in relation to your business, do not hesitate to contact us, and we will help you evaluate in depth the opportunities that this innovation could bring your company.
With professionalism, ability to listen and competence: as in the style of Prima Additive!